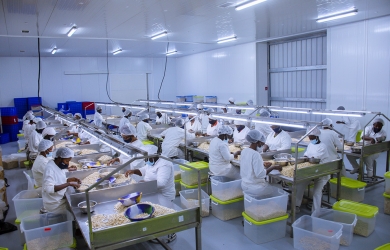 IVORY CASHEW NUTS (ICN) transforms cashew nuts into white almonds, sold mainly internationally.
The vision of ICN is on the one hand to provide its customers with quality almonds, irreproachable in terms of health safety and on the other hand to meet their multiple requirements as well as those relating to regulatory and legal standards.
The General Management of ICN is aware of the importance of food safety throughout the supply chain of raw materials and throughout the transformation process.
This is why the company has defined a policy based on food safety and quality.
Thereby, food risk control is based not only on the HACCP methodology (Hazard Analysis and Critical Control Point) defined by the Codex Alimentarius but also on the methodology
HARPC (Hazard Analysis, and Risk-based Preventive Controls) for human food as defined by the United States Food and Drug Administration (FDA).
In addition, ICN is committed to complying with the BRCGS for food safety (Brand Reputation through Compliance Global Standards) global standard for food safety in order to guarantee the safety, authenticity, legality and quality of foodstuffs to meet to customer expectations.
Continuous improvement remains one of ICN's priorities. This translates, on the one hand, into the commitment of all staff to the strict application of established processes and procedures and, on the other hand, into the constant search for ways to improve them. I therefore urge department heads to show leadership and support their employees in this process.
This desire for improvement is also reflected in the perpetual quest to achieve the following priority objectives in terms of food safety and quality.
Comply with regulatory, legal and normative requirements
Guarantee good hygiene practices by obtaining 1000/0 results in accordance with customer requirements
Protect consumer health by marketing healthy products
ICN commits each employee to know and maintain the requirements described in the procedures that relate to his area of ​​expertise. Everyone must be responsible for the safety and quality of the products produced by the company.
The General Management undertakes to support and ensure the application of the rules put in place and to guarantee the availability of the means necessary for the implementation, monitoring and review of the system.
Done in Bouaké, June 02, 2022 E
Eric Bessekon YAPO
General director